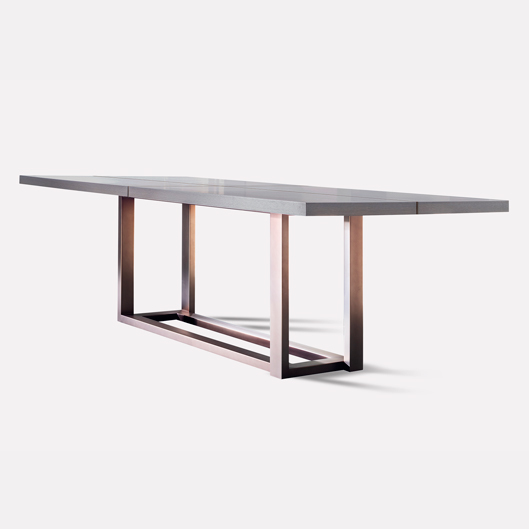 TAVOLATA Dining Table
The appeal of the contemporary dining table TAVOLTA lies in its harmonious combination of warm wood with noble metal. The thin metal lines are seamlessly carved into the top to adorn the surface of the table which rests on a confident yet light metal base. The design of the base with its off-set pillars give a subtle architectural element that connects to the solid e top to form a sophisticated "T" view. Also available with two bases depending upon length and style choice.
Metal: Inox, Rame, Oro, Bronze Shadow, Canna Di fucile, Ottone Anticato. Wood: Beach Grey, Beach Grey Cerused, Canaletto Walnut Zero, Light Grey, Light Grey Cerused, Oak Stained Wenge Cerused, Oak Stained Wenge, Oak White Older, Tanganica Dark, Urban Grey, Urban Grey Cerused, White Milk Oak, Lava, Carbone, Nero, Espresso, Canaletto Walnut, Canaletto Walnut Zero, MUD Grey, MUD Grey Cerused, Cuoio.
As shown | Wood: Light Grey Metal: Bronze Shadow